for a happy you
low sugar soda enhanced with a blend of l-theanine, turmeric, and ashwagandha
SHOP NOW
The Happy Stuff

l-theanine for focus

turmeric for inflammation

ashwagandha for stress
The Perfect Soda®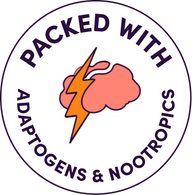 Nothing Artificial

We took everything bad about traditional soda and replaced it with the best ingredients possible. You'll never find cane sugar, high fructose corn syrup, artificial ingredients or preservatives in Perfy.

For a Happy You™

Perfy is enhanced with nootropics and adaptogens that make your tastebuds AND your brain happy.

Keto Certified

We use real fruit juice (not from concentrate) and a blend of stevia, monk fruit, and allulose with a pinch of sea salt to deliver that great taste and mouthfeel from your favorite childhood sodas.
What Makes Us Perfy?

blood sugar friendly

+ nootropics

+ adaptogens
no added sugar

nothing artificial

caffeine-free
★★★★★

Nothing But Love
Meg Cremins

|

@beetsandbetes

Type 1 Diabetic

I was so surprised when I saw how little of an impact Perfy made on my blood sugars. Even without dosing any insulin, it was as if I was just drinking water!

Tara Garrison

|

@coachtaragarrison

Health Coach

Real fruit, low sugar, nootropics and adaptogens all in one delicious drink?! I'm obsessed. These guys get it. As a health coach and performance junky, all I can say is: THANK YOU! My mind feels so clear after drinking Perfy.

Raquel Baron

|

@typeoneday

Type 1 Diabetic

It's so hard to find fun drinks that don't spike my blood sugar. Perfy eliminates that issue and I'm amazed at how delicious it is!

Logan D.

|

@loganberrygrace

Mom

Really good stuff - I literally never drink soda ever bc there's always an ingredient that I'm leary of. Even in 'healthy' sodas. But these are 🙌 you should be super proud!

Michael H.

|

@fat_dad_keto

Keto Dieter

This Blood Orange Yuzu is seriously one of the most interesting and delicious drinks I've ever had.
Perfy vs. Big Soda
We took everything bad out of traditional soda and replaced it with the best possible ingredients.
Calories
Sugar
Net Carbs
For a Happy Brain

Perfy

20
3g-4g
4g-5g

✅

yes

✅

yes

Dr. Pepper

150
40g
40g

❌

❌

Sunkist

190
50g
52g

❌

❌

Cactus Cooler

150
39g
40g

❌

❌

Hawaiian Punch

80
21g
22g

❌

❌